Folded business cards
Printing folded business cards online
For those, who are looking for a handy and creative advertising tool, the online printing service OvernightPrints offers sturdy and elegant folded business cards. They stand out from simple business cards with their extravagant look. Folded business cards printings are ideal to make an impression on your customers and business partners. Due to the possibility to print four-sided, there is enough space to let your creativity run wild and to impress with visual highlights and a magnificent layout. There are almost no limits to your imagination to create cheap folded business cards as an individual advertising tool. OvernightPrints.co.uk supplies you with folded business cards UK-wide.
If you want to distinguish your company from others, you can achieve that with these innovative business card printing, also with fine business card cases. Our folded business cards have a standard size of 170mm x 54mm when they are open. When entering the text and picture data, it is important to note the trimming to make sure that all visible elements are in the right place. Before you start designing the layout, you should decide if the folded business card is going to be produced horizontally or vertically. Integrated pictures and logos should have a resolution of minimum 300dpi to make your flagship a highlight.
Folded business cards printing with service and high quality
You can work with our folded business card printing templates to ensure that everything is in the right place and in the right format on the printed business card. If you have any further questions, please do not hesitate to contact OvernightPrints by calling our customer service or by sending an email. We are more than happy to help with any inquiry. As an option, the folded business card printing can be made with full or partial gloss coating for a highly professional impression. Printing in the four-colour space with the CMYK printing process is the best way to draw attention to logos and pictures.
Folded business card printing with OvernightPrints
Each folded business card printing can be an individual masterpiece with the help of our design templates, in order to make your contact data a real eye-catcher. The surface of the folded business cards can be printed one or double sided by using a paper density of 350 g/m². The advantage of using this weight is the high stability of the folded business cards. Folded business card printings also have considerable appeal as they fit comfortably into your purse despite of their large size. Get your folded business cards UK-wide!
SIMPLY UPLOAD

You have your own complete artwork? Upload file(s) and check the preview.

Upload your
own design
Prices
Premium Cards (Offset print quality)
350g/m² card stock with EXTRA high stiffness
Quantity
single sided
double sided
100

£18.36

£25.72

250

£29.40

£34.92

500

£38.60

£47.80

1000

£53.32

£68.04

2000

£71.72

£95.64

3000

£82.76

£117.72

5000

£106.68

£161.88

All prices include VAT. and exclude shipping
Click for More Pricing
Specifications
File Specifications
File Size:
173.22mm x 57.22mm
Bleed size:
1.61mm
Final dimensions:
170mm x 54mm
Resolution:
300 dpi
Recommended Colorspace:
CMYK
Double-Sided Card Orientation Guide
horizontal (landscape)
vertical (portrait)
File-plan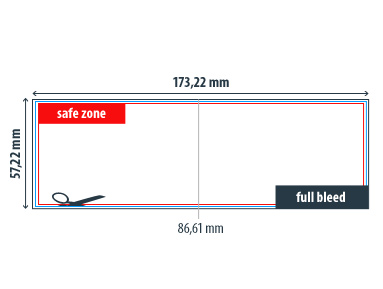 File templates
File Templates - Guidelines and Templates/Start Files for creating your own artwork
Which program would you like to use to design your artwork?
Please note the guiding lines and their meaning
File Format (Full bleed size):


Backgrounds need to extend all the way to this size.

Cut line:


Cards are cut here. A small trim tolerance is possible (see Design Tips).

Safezone:


Please make sure that the objects which are not supposed to be cut off are within that zone.
Hints about saving files
Use CMYK colour mode
Save PDF as Acrobat 4 (pdf 1.3) with "High-quality printing"
Save jpg or tiff in highest possible quality
do not exceed 24 MB per side
processing time and shipping:
Option:
Cost:
Duration:
Delivery Time:
* Without Package Tracking ** With Package Tracking
Prices valid only for 1 set. Cost for multiple sets available here.