Business Cards
Cheap business cards online at OvernightPrints.co.uk
Do you need high-quality business cards in a professional design at favourable conditions? With the printing services of OvernightPrints you are looking at the right place! You can choose to create your own business card online or to let professionals design it for you.
With the comprehensive selection of modern designs you get the opportunity to order cheap business cards online in high quality. There are no limits to your imagination. The business card printing is done on high quality cardboards. The cheap business card online printer offers many optional variations to choose from, such as High Gloss Coating or Partial High Gloss for the logo and also fonts or pictures.
Our finishing options for business cards:
Business cards with high gloss coating
Business cards – partial High Gloss
Business cards templates
Create on business cards
Otherwise we also offer folded business cards and business card holders for an individual presentation.
Print business cards online within 24 hours
Printing business cards online is possible for offset or digital and available in the standard size of 85mm x 54mm. If you design your business card with the help of one of the numerous patterns you can choose the background and the text font at your own discretion. Logos and other pictures can also be reordered and arranged. By the right click, your cheap business cards can be printed with the same quality within 24 hours. Those of you needing a little bit of help creating your business card should try the creative process by using the Interactive Designer. That is the way to print the business card step by step.
Online business cards printing – a cheap solution!
Whether you order one-sided, double-sided or folded, the business card printing is always made in the same high quality. The professional business card printing in CMYK colours let the small flagships of every company shine in bright splendour. With a reliable and fast delivering business card printing house, you have got a competent partner at your side that accommodates the customer's wishes. Online business cards printing is affordable and easy to use.
The purpose of printing business cards is to provide a potential business partner with your own name and the contact details of the company in a swift non-bureaucratic manner. If you order high-quality business cards in this cheap and quick way you will find out that going through conventional businesses, e.g. via print media, takes longer and is by far less effective than online business card printing.
Printing business cards
Every business card printing can be created individually by the Classic Online Designer. If you fit text, logo or a picture into the print business card the data will be transmitted to OvernightPrints who will deliver a high-quality result in a short time period. Cheap business cards are an inexpensive way for the right appearance and the perfect first impression of you. For freelancers, business cards are also an essential instrument of their self-marketing.
The corporate design is getting an important part of the corporate identity and is essential for every company. The identical design of the company's products contributes to the recognition value and to trust building. A professionally designed business card is an essential flagship of any employee of the company. Drawing attention to the logo and representative colours makes a favourable impression on every client.
It is very easy to get the desired and cheap business card with the help of the most modern design programs. Now it's up to you to seize the opportunity - printing your cheap business card, order and get a high-quality product to share!
Classic Online Designer

Browse through our templates
and design your card.

Browse
templates

Interactive Designer

Choose a background
and create the card on your own

Create on
your own

SIMPLY UPLOAD

You have your own complete artwork? Upload file(s) and check the preview.

Upload
Prices
Value Cards (Digital print quality)
300g/m² card stock with high stiffness
Quantity
single sided
double sided
100

£5.50

£9.18

Premium Cards (Offset print quality)
350g/m² card stock with EXTRA high stiffness
Quantity
single sided
double sided
100

£9.18

£12.86

250

£14.70

£17.46

500

£19.30

£23.90

1000

£26.66

£34.02

2000

£35.86

£47.82

3000

£41.38

£58.86

All prices include VAT. and exclude shipping
Click for More Pricing
Specifications
File Specifications
File Size:
88,22mm x 57,22mm
Bleed size:
1,61mm
Final dimensions:
85mm x 54mm
Resolution:
300 dpi
Recommended Colorspace:
CMYK
Double-Sided Card Orientation Guide
horizontal (landscape)
vertical (portrait)
File-plan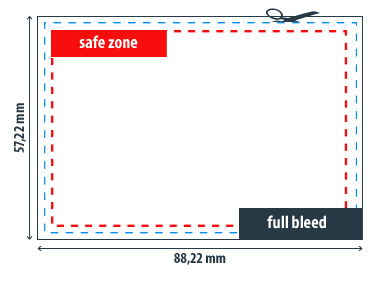 File templates
File Templates - Guidelines and Templates/Start Files for creating your own artwork
Which program would you like to use to design your artwork?
Please note the guiding lines and their meaning
File Format (Full bleed size):


Backgrounds need to extend all the way to this size.

Cut line:


Cards are cut here. A small trim tolerance is possible (see Design Tips).

Safezone:


Please make sure that the objects which are not supposed to be cut off are within that zone.
Hints about saving files
Use CMYK colour mode
Save PDF as Acrobat 4 (pdf 1.3) with "High-quality printing"
Save jpg or tiff in highest possible quality
do not exceed 12 MB per side
processing time and shipping:
Option:
Cost:
Duration:
Delivery Time:
* Without Package Tracking ** With Package Tracking
Prices valid only for 1 set. Cost for multiple sets available here.